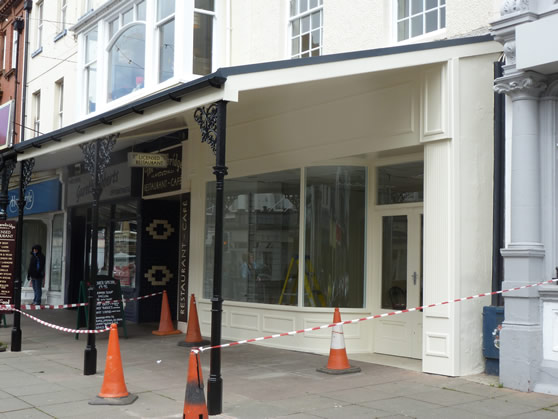 The Estate staff have been hard at work improving the look of Mostyn Street with their recent refurbishment at No 105 (near WH Smith).
The old canopy and shopfront, both dating from the 1970's have been replaced with new ones, in a style more fitting to this location.
The timber shopfront, with curved glass, takes its style from those adjacent. The canopy and name board are replicated from designs for the shop dated 1937 and were on our old files. The uprights holding the canopy in place have been taken, with kind permission of Conwy County Borough Council, from the old Youth Centre on Trinity Avenue which is due to be demolished. They were sandblasted, repaired, extended and are now as good as new
Mark Groom comments
'with the reroofing, replacement timber sash windows and canopy, this building should not need any major work for many years. It is always more demanding to be on site in Mostyn Street, but we have received a huge amount of positive comments, so are clearly making a good impression. I think we are setting the benchmark here for others to follow.

I'm keen to see the property trading, as it makes the project really worthwhile, and has been more than three years since it closed. There is serious interest in the shop, and I'm hopeful that it will be up and running in July'.