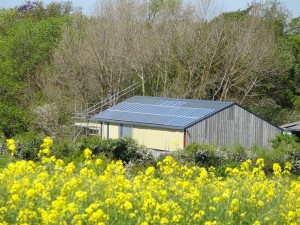 The Company has been investing in photovoltaic panels (PV) in various locations across the Estate in Flintshire and Llandudno.  These projects will help to reduce reliance on fossil fuels for both the Estate and a number of its tenants.  The arrays are up to 10 kw each and have been performing beyond expectation; notwithstanding some less than sunny weather.
These, together with other investment in Bio Mass boilers, air source heating systems and solar water heating demonstrate a strong commitment to alternative sources of energy for heat and power.  There are many businesses and individuals that talk a lot about the issues, but the Estate is firmly placed amongst the rather fewer number that have been prepared to take action and invest in a meaningful programme.
 The attached picture shows one of the Flintshire projects. Our thanks go to Hafod Renewable Energy, based in Denbigh; who have worked with us efficiently in developing a number of these PV schemes.
 Steve Gladwin, surveyor with the Estate comments
'before we committed, we needed to understand the capabilities of the Photovoltaic (PV) panels, their design and robustness. There were a huge number of suppliers, but we have to ensure reliability and someone we are able to call on in future if needed. The Estate has a long term outlook and PV investment fits well with this.

In assessing suitable sites, we looked for buildings that had ideal characteristics eg south facing, with 15-20% pitch, a roof structure that would support the additional load of the panels, and limited shading. There were in fact remarkably few properties that ticked all the boxes'.