Emrys Williams is a visual artist who works in the areas of painting, drawing and printmaking as well as collaboration in dance, opera and design.  He has recently opened  a new studio in  Augusta Street, Llandudno and we are delighted to be able provide details of his inaugural exhibition at his new venue.
"Change at Crewe" will be the first exhibition in a series of pop-up shows curated and organised by Emrys at his new studio, opening on Friday 17th January 2014 at 19.30pm  until Friday 14th February 2014.
Emrys commented: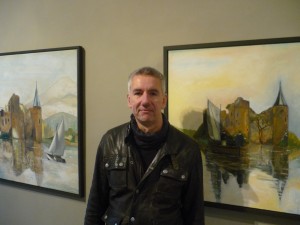 " I wanted to do an important first  show in the space and I am participating in the new exhibition "Return Journey" at Mostyn Gallery. I thought why not do a show opening the same evening an hour later!"
He added:
"In a light hearted way it responds to the Mostyn show but also aims to present something that is personal and perhaps a first for Llandudno, a small curated show that could look good in a major urban centre nationally or internationally; seven painters of experience and quality, with certain shared aspirations about what painting can be, contemporary but with a dialogue with earlier easel painting. Something you might come across in a private gallery in Milan, with a certain quality and gravitas! As I say to people imagine that part of Llandudno as the new Hoxton, "Hoxton Fach" as one artist replied to me!".
If you would like to visit the exhibition, further information is available through visiting Emrys's studio and personal websites.
http://www.emryswilliams.co.uk/
http://emryswilliams.wordpress.com/