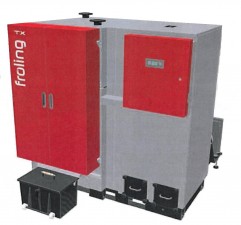 On the 17th December 2012, Mostyn Estates received delivery of the latest in a long line of projects which are helping ensure that the Estate continues its path towards an environmentally sustainable future.
The new Froling TX 199KW boiler is replacing the existing KWB150 in the Flintshire Estate, and will be used to heat Mostyn Hall and the Porth Mawr, which is home to the Flintshire Estate Office and Wagtail UK.
The new boiler will qualify for renewable heat incentive payments, such is its ability to efficiently burn both wood chips and pellets. The installation of the new boiler provides a reliable, efficient and high quality heating system that will benefit the Estate for years to come.
Installation of the new boiler will commence in the New Year and is being carried out by Dulas Ltd.