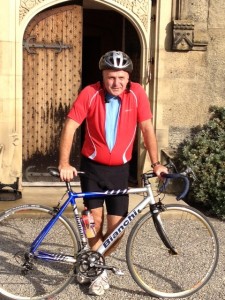 Richard Thomas, Land Agent at Mostyn Estates has today successfully negotiated the route between Llandudno and Mostyn on his road bike in an effort to raise money for charity.
Although the journey does not involve the climbs that characterise the mountain stages of the Tour De France, it is nonetheless an excellent achievement (especially when you consider that sandwiched between each journey was a full day at work).
The trip is approximately 30 miles each way, and Richard completed each leg well within his target time of two hours.
Richard is aiming to use the bike ride as a platform to raise charitable funds for the good causes that the Estate is supporting this year. If you would be interested in sponsoring him, please contact the Estate Office.