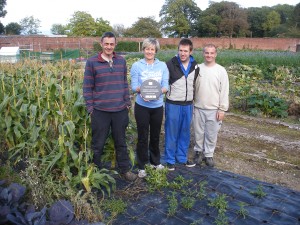 The efforts of our staff and volunteers in the Kitchen Garden at Mostyn have been recognized in the Cadwyn Clwyd Taste of Flintshire Awards 2014, with the judges naming the garden Community Champion of the Year.
Richard Thomas, of Mostyn Estates Ltd, explained, "The aim of the project is to assist with education, health and prosperity across all areas of the community. Participants have the opportunity to be fully involved in all aspects of growing vegetables. By doing this they enjoy exercise in the fresh air, social interaction, confidence building and learning new skills. They can see and learn how easily fresh food may be grown to organic principles."
He added, "We're delighted the garden has received this prestigious award, as it pays tribute to all the hard work put in by volunteers and staff under the able direction of Phil Handley."
Activities at the Kitchen Garden are tailored to suit the needs of individual participants. Seed sowing, heavy digging, gentle weeding, watering, pruning, harvesting or just taking the time to enjoy a walk around provides an opportunity for everyone to gain from the experience. The garden also lends itself to groups organising specific events, which have included "cut, cook and eat", pruning courses, barbecues, flower arranging, dry stone walling, jam making, Christmas decoration making, willow sculpture and many other activities.  Open days are also held when all the groups can meet up over soup and cake.
Initially started as an Intermediate Labour Market project, it has developed into an independent, social enterprise.