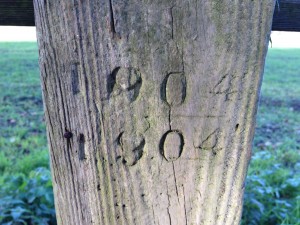 Recently, Forestry Staff on our Flintshire Estate identified some historic fencing near to Mostyn Hall.
A 500 metre section of timber railings are still going as strong, despite being built 109 years ago. The longevity of the posts is at the opposite end of the scale to modern fencing materials and practices. Modern fence posts have a tendency to rot in the ground and require replacing on a more regular basis.
Our forester, Philip Davis explained that these posts are made from Scot's Pine and they will have been air dried for up to 18 months before being submerged in a vat of creosote and boiled.
The majority of the timber fences and gates on the Mostyn Estate are date-stamped with a metal punch and when taking a short walk around the Estate,  you can quickly identify their age.