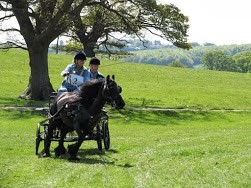 A warm and sunny Spring Bank Holiday witnessed the return of the popular Chester Horse Driving Trials Group to Whitford Park on the Flintshire Estate.
The group, who are celebrating their 25th Anniversary in 2013 have hosted an event on the Mostyn Estate for a number of years now and the competition continues to be very popular among locals and visitors from further afield.
The two day Driving Trials comprised of Dressage & Cone Driving on the Saturday followed by a Cross Country Marathon on the Sunday. The marathon route took competitors through Whitford Wood (an ancient semi-natural woodland), providing the rare opportunity to drive through the upper arch of Dry Bridge Lodge. Following this, participants crossed over the Park at Mostyn Hall providing a breathtaking view of the historic family home.
The group will be returning to the Mostyn Estate in July, when they plan to hold an event on the Mostyn Farm Ride. Please see the Chester Horse Driving Trials Group website for further details: www.chesterdrivingtrials.co.uk/