Lord Mostyn recently accepted the honorary position of patron with charity North West Cancer Research (NWCR).
NWCR is the North West's biggest locally-based cancer research charity, which facilitates research projects across the region including Bangor University. This year alone the charity has funded around £1.4million worth of research, which will help increase our understanding of cancer and how better to detect, treat and prevent the disease.
Nigel Lanceley, chairman of NWCR, said: "We are honoured that Lord Mostyn has accepted his NWCR patronage. With him on board we will be able to raise the profile of the work we do on a nationwide level".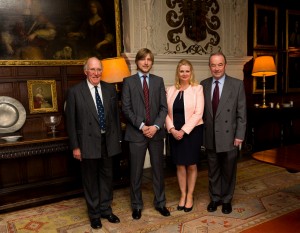 Pictured: L-R: Michael Potts, president NWCR, Lord Mostyn, Anne Jackson CEO NWCR and Nigel Lanceley, chairman NWCR
In a token of support for the charity, he presented guests from the NWCR board and members of the charity's local Holywell-based committee, with a cheque for £4,219. This was the result of fundraising efforts from the estate staff.