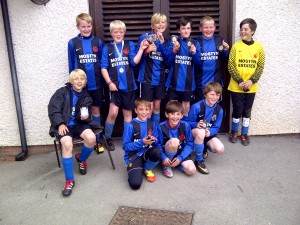 Penrhyn Bay FC, an under 11's football team proudly sponsored by Mostyn Estates have further enhanced their reputation as the outstanding team of the Aberconwy league  with a deserved victory in the Penrhyn Bay cup.
After a long and demanding season, the boys have seen their effort and hard work pay off by securing the prestigious trophy in their home tournament. The achievement is a testament to the hard work and dedication that the squad has shown throughout the course of the year, and is a fitting tribute to an exceptional team.
After a day of exciting matches the final was contested by the two stand out teams of the tournament, Penrhyn Bay and West Kirby Panthers. With no side able to break the deadlock, the final was decided by penalty kicks and Penrhyn Bay held their nerve to take the trophy home.