Over the past year we have invested very significant sums in solar photovoltaic (PV) panels, throughout the Flintshire and Llandudno Estates. Readers may recall the original article entitled "Capturing the Sunshine".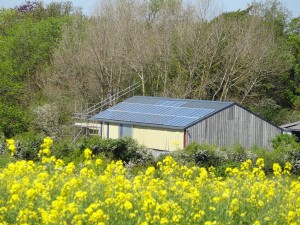 Performance of the PV panels has been regularly reviewed to ensure they are performing as well as we were promised by suppliers. Stephen Gladwin, our surveyor who oversaw installation of the panels and was tasked with monitoring performance, said,
 "It is now between 6 – 9 months since the PV panels were installed and they really have lived up to expectations.
"The panels have produced around 20,000 kWh, which is the equivalent of boiling a kettle 133,333 times. The power generated to date will also run a family home (2-storey, 3 bedroom house) for just over 12 months".
The PV panels have allowed not just the Estate but also our tenants where they were installed to reduce carbon emissions, by not having to rely completely on electricity via the National Grid, generated using fossil fuels.
Perhaps unexpectedly, regular output readings show that – at least this year – the sun shone more on parts of Flintshire than Llandudno!