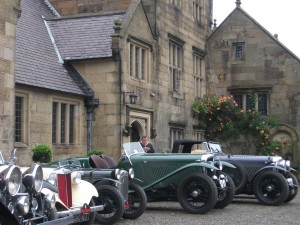 This unmissable event was again based in the attractive seaside town of Llandudno. This year enjoying an extra fourth day of competitive but not too intense rallying in a special, still relaxed anniversary format, the entry of 100 cars covered around 550 miles, visiting many of the most attractive locations in North Wales and travelling over scenic rally roads.
In addition to being based in Llandudno, participants took the opportunity on the Saturday morning, to visit Mostyn Hall, where they were able to take a well earned rest.
For the final stage of the event, the cars returned to the closed sections of the Great Orme.
Lotus Elan crew Graham Walker and Sean Toohey won by the narrowest of margins, beating two-time winners and overnight leading crew Mark and Sue Godfrey in their MG TD after four days of rallying. Fittingly both crews have competed in all ten years of the event.
Mostyn Estates has been closely connected with the event since its inception, and has seen it grow to become a key event in the town's calendar.