Over the last month, both the Flintshire and Llandudno Estates have provided work placements in agriculture and horticulture to Italian students studying at the Conlan School in Abergele and Chester (www.conlanschool.com/en/).
Students have had the opportunity to assist in the development of the Mostyn Kitchen Garden, a two acre Victorian Walled Garden at Mostyn Hall. This has included site preparation, germination of seeds, cultivation and tending of crops, as well as learning about the sale of the produce to local food co-operatives and restaurants.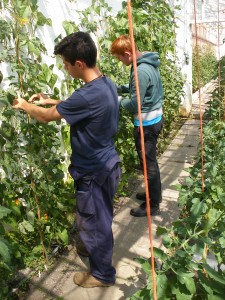 The students are also learning about the management of Mostyn Hall grounds.
Small groups have also assisted in the management and maintenance of a cross country farm ride and tending goats, whose milk is used locally to produce cheese.
Also, whilst studying at the Conlan School, students visited the Estate Sawmill in June, hearing about management of the Estate's woodlands and the sawmill business.
It is hoped that, with the Estate being so diverse, it has provided an insight for the students and helped develop their practical skills, which will aid them with academic work when they return to Florence.
Further students will be commencing work experience soon.